Instrumental Program - High School
Independent Learners and Musicians
We are committed to encouraging our students to be independent learners and musicians, so that they may enjoy their instrument and the arts long past their high school careers. Both the expectations and performance standards we have for our students are very high. Private lessons and community involvement are encouraged. We strongly believe that the more a child practices and performs, the more successful he or she will be in any subject area or extra-curricular activity. We work to develop leadership skills in each child, and student directed help sessions (peer tutoring) are a part of these lessons.
Prepare for Life Beyond our Classroom
The numbers of commitments that an excellent performing ensemble can have are extensive. The emphasis on attendance in the student grade is due to our belief that we are providing students with experiences and skills to prepare them for life beyond our classroom. Support in attaining this goal is crucial.
Grades
Students are graded on performances, tests and quizzes, playing tests every nine weeks, daily attendance and classroom participation. The percentages shift each semester with the number of required performances.
High School Band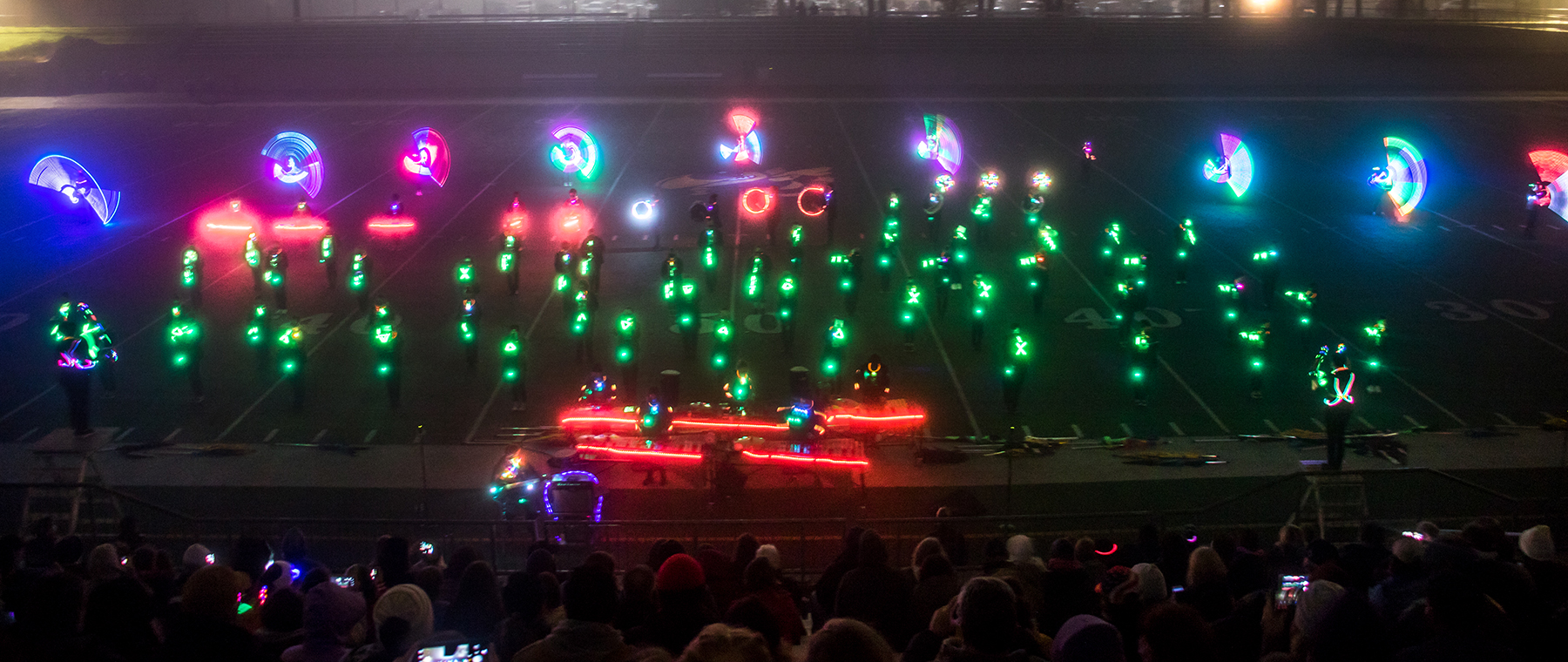 Greenville High School Instrumental Music Department
The Greenville High School Instrumental Music Department has an Enrollment this fall of over 200 students. Courses consist of one orchestra class, three concert bands, two jazz bands, and the Yellow Jacket marching band. Students may enroll in more than one course with special permission.
The Junior Varsity Band was created in 1995 and is made up of most ninth grade and some 10-12th grade students. These students participate in all parades and one varsity football game during the fall. The ensemble functions as an independent concert group during the winter and spring. The Yellow Jacket Marching Band is made up of 10-12th grade students and a few freshmen. After the first nine weeks, the marching band divides into the Concert Band and the Symphonic Band. These placements are made by audition, and remain throughout the school year. All students in grades 9-12 may participate in Jazz Lab One or Jazz Lab Two in the fall and winter. Jazz band is available for credit during zero hour.
Ms. Wolfe directs the High School Band and Orchestra program. Student teachers direct the Pep Band and Mr. Radtke, Greenville Middle School Band Director, oversees the Jazz Bands.
The String Orchestra consists of string students in grades 9-12. The Symphony Orchestra is created during the second semester when 10-12th grade wind and percussion players are selected to play in the ensemble. Rehearsals for Symphony Orchestra generally happen during channel one time and in the evenings.
Photo credit: Cheryl Willard